TMT (Treadmill Test)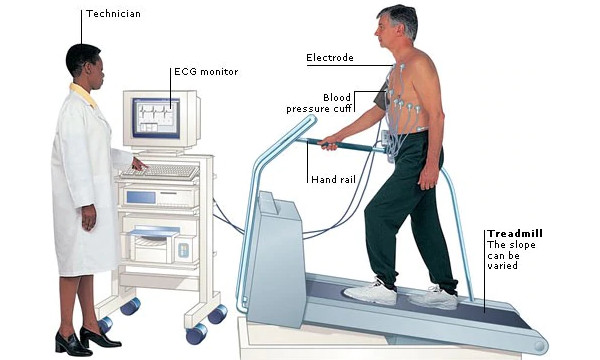 An treadmill test is used to determine how well your heart responds during times when it's working its hardest. During the test, you'll be asked to exercise typically on a treadmill, while you're hooked up to an electrocardiogram (ECG) machine. This allows your doctor to monitor your heart rate.
An treadmill test is primarily used to help your doctor determine if your heart receives enough oxygen and proper blood flow when it needs it most, such as when you are exercising. It can be ordered for people who have been experiencing chest pains or other symptoms of coronary heart disease (also called coronary artery disease). An treadmill test may also be used to help determine your level of health, especially if you are starting a new exercise program. This allows your doctor to learn what level of exercise you can safely handle. If you are a smoker over 40 years old, or if you have other risk factors for heart disease, you should talk to your doctor to see if a treadmill test is right for you.
Treadmill test is generally considered safe, especially since they're done in a controlled environment under the supervision of a trained medical professional. However, there are some rare risks, such as:
Chest pain

Collapsing

Fainting

Heart attack

Irregular heartbeat