Electroencephalography (EEG)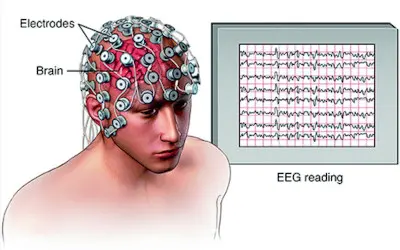 Electroencephalography (EEG) is an electrophysiological tracking technique to record the electric activity of the brain. It is usually non-invasive, with the electrodes positioned alongside the scalp, even though invasive electrodes are from time to time used, as in electrocorticography, sometimes known as intracranial EEG.
An EEG tracks and records brain wave patterns. Small flat metallic discs known as electrodes are connected to the scalp with wires. The electrodes examine electric impulses withinside the mind and send alerts to a computer that records the results. Electrical impulses in an EEG recording appear to be wavy strains with peaks and valleys. These lines allow physicians to quickly assess for abnormal patterns. Any irregularity can be a sign of seizures or other brain disorders.
What are the uses of EEG?
An EEG is used to discover issues withinside the electric activity of the brain that can be related to certain mental disorders. Measurements given with the aid of using an EEG are used to verify or rule out numerous conditions, including:
Seizure disorders (such as epilepsy)

Head injury

Encephalitis (inflammation of the brain)

Brain tumor

Encephalopathy (a disease that causes brain dysfunction)

Memory problems

Stroke

Dementia
When someone is in a coma, an EEG can be done to determine the level of brain activity. it is also used to monitor the activity of the brain during surgery.
Our Locations Near You in Hyderabad
4KM from Madhapur
3KM from Banjara Hills
1.9KM from Yusufguda
3KM from Madhura Nagar
5KM from Shaikpet