Best Electroneuromyography (ENMG) in Hyderabad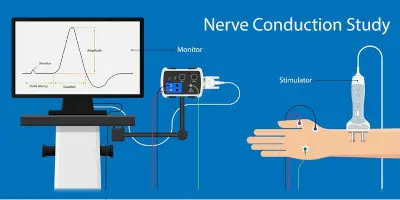 Electroneuromyography (ENMG) is the electrophysiological examination of the central and peripheral nervous system, neuromuscular transmission, and the muscles. This diagnostic test also referred to as electroneuromyography, is crucial in the assessment of neuromuscular disorders. If you are experiencing symptoms such as muscle weakness, numbness, or tingling, an electroneuromyography test at a reliable diagnostic centre can provide valuable insights into your neurological health.
The ENMG procedure consists of two main parts:
Nerve Conduction Study

The nerves are stimulated at different points usingtiny electric shocks, deliberately triggering them in order to gauge how well they work. This part of the test helps evaluate the speed and strength of nerve signals, identifying any abnormalities in nerve conduction.

Needle exam for muscle testing

Wonderful needles are inserted into several muscles. Every hand contains a tiny electrode that detects both normal and aberrant electrical signals produced by a force. This aspect of the test provides detailed information about the electrical activity of the muscles, aiding in the diagnosis of muscle disorders.
For accurate and comprehensive ENMG services, consider visiting a reputable diagnostic centre such as Sprint Diagnostics, a trusted diagnostics near me facility. The experienced professionals at Sprint Diagnostics specialize in conducting advanced neurological tests, interpreting results, and collaborating with specialists to ensure a thorough assessment of your neuromuscular health. Early detection through ENMG can be instrumental in managing and addressing neurological disorders effectively. Schedule an appointment at Sprint Diagnostics for precise diagnostics and personalized care tailored to your neurological needs.
What is an EMG test used to diagnose?
Carpal tunnel syndrome

Pinched nerve

Radiculopathy

Sciatica

Neuropathies

Muscle diseases

Muscular dystrophy

Myasthenia gravis
Frequently Asked Questions
1. What can an EMG diagnose?
EMG can diagnose nerve and muscle disorders, including neuropathy, myopathy, and nerve compression.
2. How do I prepare for an EMG test?
Wear loose clothing and avoid lotions. Inform your doctor about medications and medical conditions.
3. What happens during an EMG test?
Thin needles are inserted into muscles to measure electrical activity during rest and contraction.
4. How painful is an EMG test?
Some discomfort during needle insertion, but generally well-tolerated.
5. How long does an EMG test take?
Usually, between 30 and 60 minutes, based on the complexity of the evaluation.
6. What are the risks of an EMG?
Minimal risks, including bleeding or infection at needle insertion sites; serious complications are rare.
Our Locations Near You in Hyderabad
4KM from Madhapur
3KM from Banjara Hills
1.9KM from Yusufguda
3KM from Madhura Nagar
5KM from Shaikpet